5 things of what is important to Search – Matt Cutts and Duane Forrester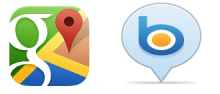 So the following video is a the view on the world of Search and a list of 5 things of what is important according to Duane Forrester the Sr. Product Manager – Webmaster Outreach at Bing and Matt Cutts the Head of the Webspam team at Google. This pair maybe competitors in the world of search with Google holding the lion share of the market – but they have a very similar view of the world of what is quality content.
Below is a close transcript of the video – Not exact but close!!
Duane Forrester's Discussion
Here is a list of 5 things that you should pay attention to and the order in which you should pay attention to them.
Content

Social

User Experience

Links

SEO
In that order. Greg mentioned earlier that content isn't king. You know what- from where we're sitting, it is!
Because when people search, there searching for content.
Tthere not searching for your attempt to SEO your version of something to the top of the Page.
Your right Greg is the provider of the internet.
One more time:
Content
Social
User Experience
Links
SEO
Now the SEO basic best practices you have got to nail it. Alex said this earlier, you've got to nail it just get in there and do it.
Content seriously
Who here produces excellent conent. (Half the room put up their hand – even Matt Cutts)
Yeah most of you are wrong! (Everyone laughs – even Matt Cutts.)
So hears the deal, you don't get to say you produce excellent content! (Everyone laughs again….)
And you know Matt produces some duds and he has some winners it happens (I think he said Matt – either way if he didn't' it's a bit more controversial)
User engagement decides whether your content is excellent or not
Because that is what we are trying to understand
Social Side
On the social side it's more about engaging not just about G+, Facebook, Twitter all that, its about engaging the clients and showing you're a good business that's trust worthy because those signals come back to us.
User Experience
On the user experience side – Useability
If your not putting money into useability testing and time into that your missing massive opportunities to moving forward
SEO and Link Building
And link building if you nail the first 3 you get all the links that you want and you don't need to worry about the rest of it
And then your right back of the bases of SEO
But don't get myopic on these little tactics and say that I have to tweek my H1 tag and what happens when I move to html5 and have multiple H1 tags and start loosing sleep over that crap
Don't worry about it! And incidentally we will just pick the first 1 for SEO and ignore the rest of them.
So there you Go!
APPLAUSE for the crowd
Matt Cutts:
Alright cool so were almost done with SMX I'm always said to see the end of SMX because there so much fun
Danny Sullivan:
Almost at the end of the SMX session not conference.
Matt Cutts:
Yeah yeah SMX is not ending
Danny Sullivan
Just to clarify
Matt Cutts:
In case you though SMX was going bankrupt it's not, it's not going bankrupt, it's fine
Danny Sullivan:
I can just image the suggested queries that have formed for the meeting and my plan
Matt Cutts:
So I guess the higher bits.
We will keep working on more communication and more transparency
Every year I say that and every years its true
And every year I find out we can do better
And well keep doing better and well keep working on it
The flipside of that is please avoid the temptation to go Black Hat or hire people on your behalf who are going to do spammy things
Because you dig yourself into a hole and it's a lot more pain to dig back out if it than it would be if you just hadn't done it in the first place
The gap between you know the cool loophole that you think that you can exploit verses the amount of pain it just gets harder and harder every year
So I would just recommend people avoid that temptation
So I'm going to take Duane's 5 things and summarise them as one thing
Make something COMPELLING
Right don't be generic
Make something COMPELLING
And I'll specifically call out one thing he did and add one more thing
I think it's important to think about the design and the user experience whether it's your web whether it's your entire sigh up process
Look for those rough edges, sand those down bring in new people watch them go through the pipeline and you will learn a tone of things on how to do things better
The sites that are doing really the business that are doing really well, the startups that are doing really well are the one who really pay attention to that user experience
And if you optimise that YOU WILL DO WELL
The last thing that I wanted to re-iterate is Mobile matters
It's going to matter a lot more, more than people will realise a lot fast than people realise
If you look at the graph and go look at your analytics or server logs
Are probable going to see a expediential curve that's going to pass your desktop traffic in the next 2 or 3 years
Depending on what sorts of markets you handle on how international you are and all those sorts of things
So don't just completely ignore mobile
Start to think about it and start to think about how you can do it well
Maybe that's an apps that your got more diversity and that's fantastic thing to do
Maybe it just making sure that you website works well on tables phones and smart phones in future
Those are the big things but high water bit (I think this is what he said??)
Make something compelling and if you pay attention to that things will work out
APPLAUSE from ALL