"OK Google" Who Will Win 2015 State Election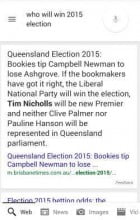 When you do a "OK Google" search on "Who will win the 2015 State Election" the statement is Bookies tip Campbell Newman to lose Ashgrove and Tim Nicholls to be the new Premier of Queensland! Google has not made the prediction they have just provided the data from the Brisbane Times.
Bing does not provide any prediction like it did in the Scottish Independent Referendum vote.
It will be interesting to see if Bing does any work on this with the QLD State Election or have they given up on this prediction technology. Or is it Australia doesn't have enough search traffic for them to be able to make a prediction.
"Ok Google" who will win 2015 election

With Siri you need to be a bit more specific otherwise it provides details about the UK. When I asked Siri "Who will win the Queensland 2015 state election" it provided 7 different references to websites discussing the election.
Google Trends is showing an increase in interest and this information will grow as the election gets closer as it did with previous elections.
State Election Twitter Trend and Hash Tags

Now lets have a look at Twitter Trends and Major Players and Hash Tags.
Campbell Newman
Twitter ID: @theqldpremier
41.9 K Followers

Twitter Audit Details

25,924 Fake Twitter followers according to Twitter Audit

Annastacia Palaszczuk
Twitter ID: @annastaciamp
7,928 Followers

Twitter Audit Details

1,180 Fake Twitter followers according to Twitter Audit

The following data is from Topsy showing the number of tweets both the @theqldpremier and @AnnastaciaMP have made since the election was called. It's obvious the Campbell Newman account hit the ground running with more tweets in the first couple of days.
Major QLD State Election Hash Tags

There are 2 major hash tags that standout with the Qld State Election.

So which politician is winning the Social Media race? And does it matter to the end result?