"Would you Like Fries with that" Ecommerce Marketing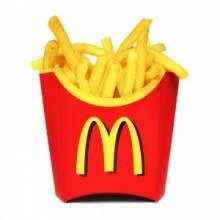 So one of the problems many ecommerce websites have is they are not SEO optimised and don't offer the ability to upsell additional products or services very well. They received feeds of data and upload this automatically with pricing and content. From a Google Search engine perceive it is hard for your website to stand out from the pack. But there are manual ways around the problems. It's not scalable but it will provide a stop gap solution until you upgrade you ecommerce platform and design it with SEO in mind.
eCommerce Marketing
There's a Brisbane based printer company who supplies printer consumables across Australia. They have an ecommerce store that isn't mobile friendly but I believe are in the process of upgrading it. It looks like it's few years old. It's interesting to see that it looks like they have manually modified a number of pages to help with their organic traffic and this is a smart approach. As a stop gap while their new website is being developed.
Many old ecommerce website didn't really cater for key rich H1 Title tags or H2 within the content and one of the main reasons is SEO has changed a lot over the years and if your website is over a couple of years old you are likely to be loose a lot of organic traffic.
Panther Data have created a number of pages that they have manually inserted the specific keyword they are chasing. In this instance it appears to be CB540A Black Toner cartridge. They included this within the page H1 and H2 and they have a number of links to the other colour toners cartridges (CB541A, CB542A and CB543A). Which is all good and useful.
But this is where they have also suggested other similar products and asked it you would like fries with that. Ok not exactly, but they have linked off to a bundle pack which is 4 toner cartridges. This is a very smart option, as it is hard enough to generate website traffic at the best of times and to make a sale where there is $10 to $20 profit is great but by selling a bundle pack they are likely to make 4 times that profit 1n the 1 transaction.
Leaving Money on the Table
Every website needs to maximize its cost per transaction as SEO and Paid traffic both cost money and you need to squeeze ever additional cent out of each transaction.
Have you ever noticed how Amazon has the section under product of "Customers Who Viewed This Item Also Viewed" as they want to give every opportunity to be able to sell at least 1 product.
They also have a friendly reminder of other products you have recently viewed as they are aware that you didn't purchase these items and you may be still considering purchasing the items.
Shopping Cart "Would You Like Fries with That"
After adding an item to the shopping cart at Amazon you are presented with a number of areas to try and cross sell and upsell similar or complementary products. With headings of "Frequently Brought" items, "Customers Who Shopped for" and "Customers Who Bought" …… "Also Bought" the following products.
Every ecommerce store has the opportunity to upsell and cross sell items. And then email market to customers down the track for replacement items or consumables associated with the product. As email marketing is a very cost effect marketing tool.
Are you leaving money on the table with your ecommerce store?