Local SEO Brisbane and Google+ Listings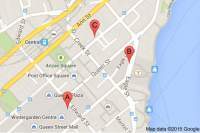 There are many different online advertising options and traditional SEO and Pay Per Click are at the top of the pile. Now there are some people who just cannot stomach PPC or AdWords, because of the cost associated with it. One of the problems with AdWords is it is easy to actually see how much it is costing. But there are also Local SEO Brisbane listings or Google+ listings which are a little different to standard SEO listings.
What are Local SEO Brisbane listing!
Below is a Google search for "house painters Brisbane". The area highlighted, with the Map and the area within the red box, are local SEO Brisbane listings. These local SEO listings are the Google Plus pages.
The Google search volume for "house painters Brisbane" is 320 searches for this term per month. With a total of 10,000 to 16,000 related searches per month. These related searches range from "house washing brisbane" through to "handyman brisbane", so some of these are not exactly house painting searches.
Another example of a local Search is "tanks brisbane" and you will notice that there are no Local SEO Brisbane listings. And, there is not much you can do about this either, but to do traditional SEO or AdWords. AdWords seems easy, but you can truly flush a lot of money down the toilet, if you don't know what you are doing. You are better off getting your AdWords account managed – we undertake AdWords Management Brisbane activities for an Accountant and we all know what accountants are like with numbers.
Now Google likes to spice things up with the local SEO Brisbane listings, sometimes they may have Local SEO listings above the organic or have 1 to 3 organic listings above the local SEO Brisbane listings
In the example below, there are 3 AdWords Ads, 1 organic listings and then the local SEO Brisbane listings.
Now on a mobile device these local listings are generally not displayed at the top of the screen as you need to remember Google makes most of it's money via Google AdWords. So it provides AdWords with the prime real estate on your mobile device.
However, with a short scroll down the screen the next prominent thing is the local SEO Brisbane listings and they get a pretty good showing on the screen.
Now Local SEO listings are businesses Google Plus pages, but there are certainly a number of factors to make your listings get displayed in the Google Local search results. And like always, it starts with your keywords.
Now we have listed a number of local SEO Brisbane searches which really work well in the local listings. Franchises, coffee shops, pizza stores also work really well in these situations.